SEMINARS & GROUPS
Are you looking for a special location with privacy to organise your own workshop, event, retreat or seminar?
Mani Sonnenlink Bio-Guesthouse & Retreat Centre is located in the inspiring landscape of South Peloponnese, one of the most beautiful coastal regions, in Greece.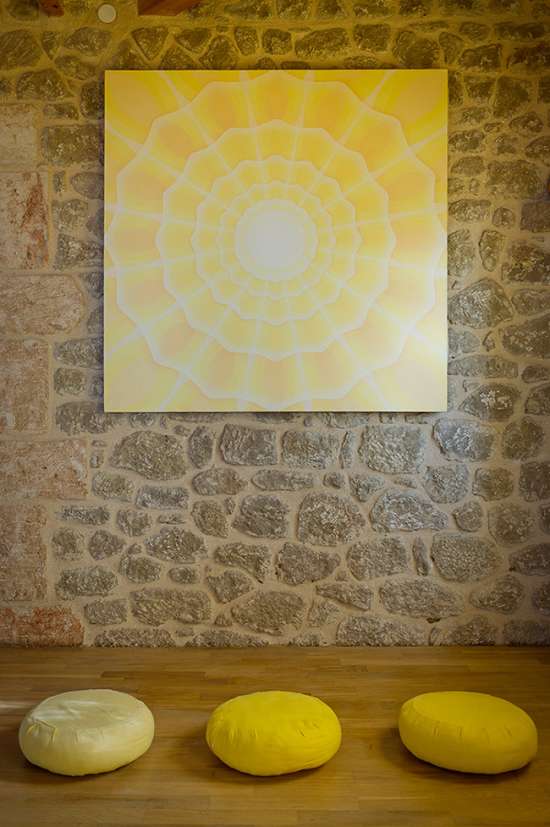 Retreat Center
The guesthouse on the hillside, in the midst of olive groves, overlooking the Mediterranean Sea, combines traditional, high quality, Greek architecture with modern specifications and standards, and the lightness of Feng Shui. It's a venue for both summer and winter workshops. Meditation room, Greek Amphitheater, a Mandala Pavillion and open spaces in the garden area make it suitable for Yoga classes, dancing workshops, therapies and many other kinds of activities.
The inside meditation room : 32 m², wooden floor – naturally oiled, fireplace, central heating, air condition, with an entrance area of 22m²
The outside meditation room : Greek open-air theatre with marble floor: 75m², approx. 150 seats, not visible from the road. It allows family constellations, Sadhanas and other forms of meditation, therapy and exercise. In summer, the arena can be shaded and creates a wonderful group spot in the nature with panoramic view – surrounded by olive trees and holm oaks.
Mandala Pavillion: suitable for various contemplative activities, therapies or rehearsals.
Equipment :
Meditation mattresses and blankets, yoga mats, singing bowls, portable stereo,  some musical instruments, stereo system at the theatre with a music library (classical and popular music), library, massage bed.
Please contact us for prices, conditions and availability.