MUSIC SUMMER
Dear friends!
We are sorry for having to cancel the concert on 28.8.2021
Due to the new lockdown in Messinia, we are sadly forced to do so.
I hope, we see you next year.
For those who have already purchased tickets, please go ahead and return them to the shop in Kardamili.
We wish you good health,
Burgi Bläuel and the Mani-Sonnenlink team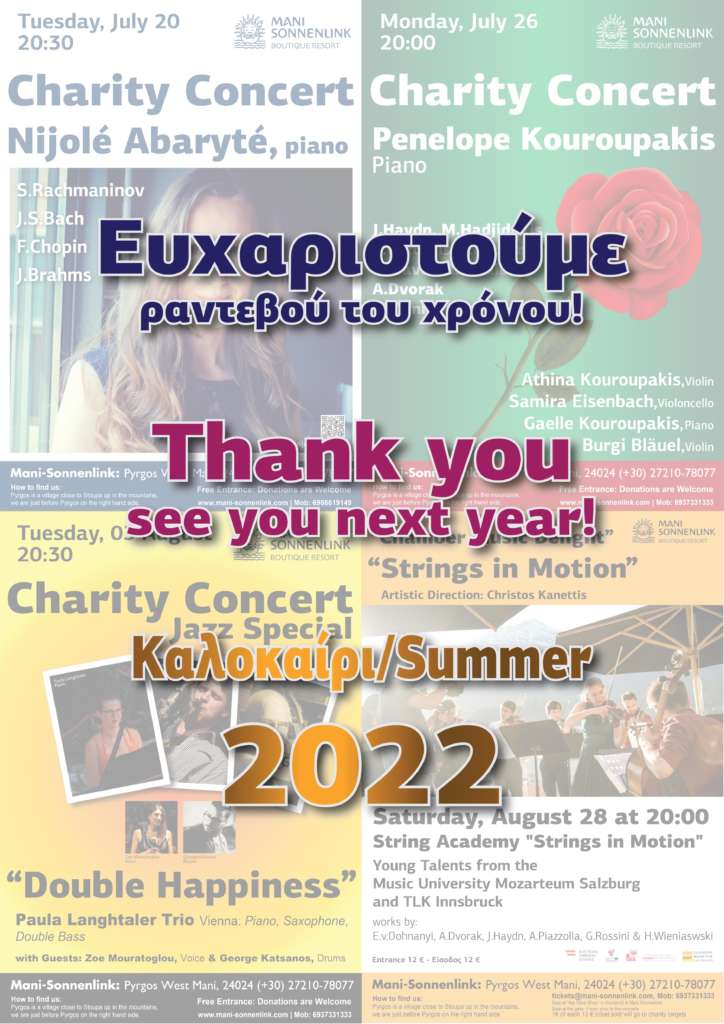 2021: IT GOES ON!
From a short-term concert with Nijolé Abaryté, who arrives on 20.7. from Switzerland and comes directly
to the Sonnenlink to play her recital, developed but a sequence of 4.5 concerts this summer!
A very colourful, exciting and also romantic program for 2021!
Dear Friends of Music!
Again and again I am asked whether we will continue to play concerts.
My answer has been: "I don't know!"
In these times I simply cannot plan ahead, put together a program, or even design festival programs.
Too much depends on too many things. Only the joy of music is certain!
After eleven successful Mani-Sonnenlink summer music festivals, however, I trusted that very beautiful things would spontaneously emerge.
Because: musicians long to play in this beautiful place in nature.
And now the time has come!
We are playing again! Nijolé Abaryté will give us the honour 20.7.2021
There will be another concert in July, on 26.7.
This will be a very special and rich evening of chamber music and piano solo, main performers will be Gaelle Kouroupaki's
wonderful young highly talented daughters, students of piano and violin (17 and 13 years young). Details coming soon
And there will also be 2 concerts in August:
A Piano Solo evening of excellence in the bright moonlight with David Ebner from Munich: 20.8.2021
And once more this incredibly touching ensemble of young talents with Christos Kannettis, "Strings in Motion" will play on the 28.8.2021 a program like from a treasure chest!
I am really looking forward to it, it could also happen, that this concert series will be extended by further events "spontaneously" (this year's theme).
Stay tuned and check our website from time to time, or write me an email.
thank you all for the music enthusiasm – and – nature around us – to host it
All the best from Burgi