MUSIC SUMMER
Summer Concerts in the evening twilight under the Mediterranean sky.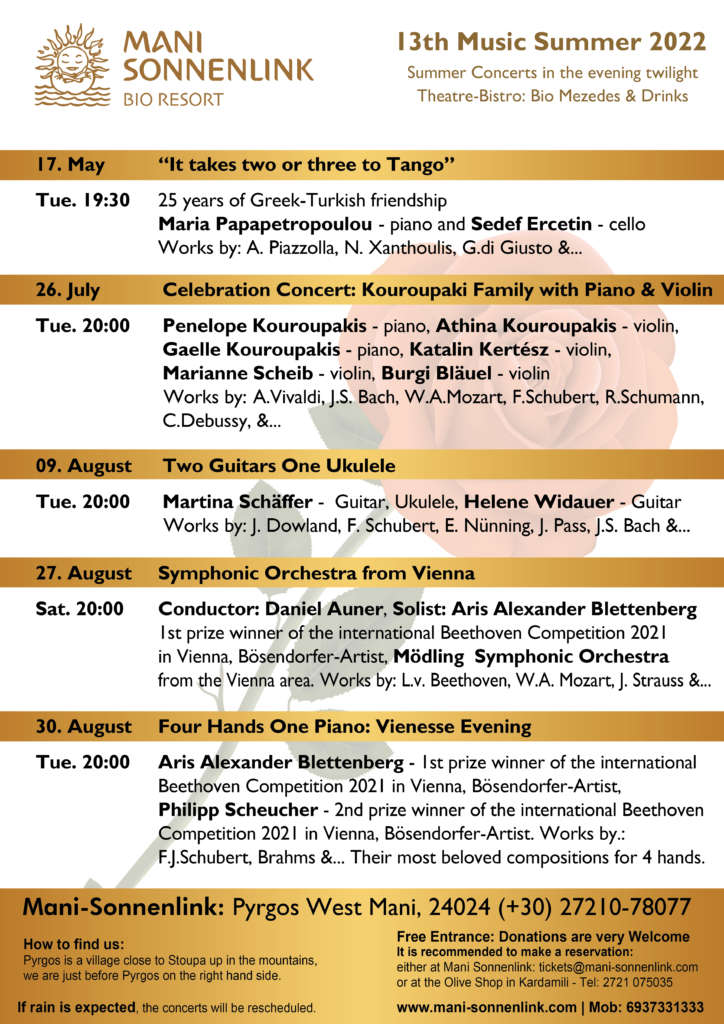 My dear music friends in and around the Mani!
Right now I am on my way to Greece. I am on the road since one hour ago. :-)))
My violin friend Marianne Scheib is driving and I can write my letter to you.
We are starting again!
We have 4 concerts ahead of us, one more beautiful & exciting than the other!
On 26.7. we will play our legendary family concert with the Kouroupakis Girls, who have now grown up, to young wonderful musicians, with Katalin, our new violinist-neighbour, and Marianne and me, the two music gypsies.
In the first half of the concert there will be a performance of classical music by the Kouroupakis Family, and in the second half delightful baroque music even with a kind of mini chamber orchestra:
A Vivaldi concerto for 4 (!!) violins and orchestra – (played by piano + harpsichord) and a Bach violin concerto that Katalin Kertész will play on her baroque violin, and the rest of us will accompany her in Baroque Style.
Please come and bring your friends, and spread the word!
Below you can also see our wonderful August programme – it will be very special again!
Next Tuesday, 26.7. is also my birthday, so we will celebrate and (hopefully) dance afterwards.
We are looking forward to seeing you soon in Greece,
Burgi