MUSIC SUMMER
Summer Concerts in the evening twilight under the Mediterranean sky.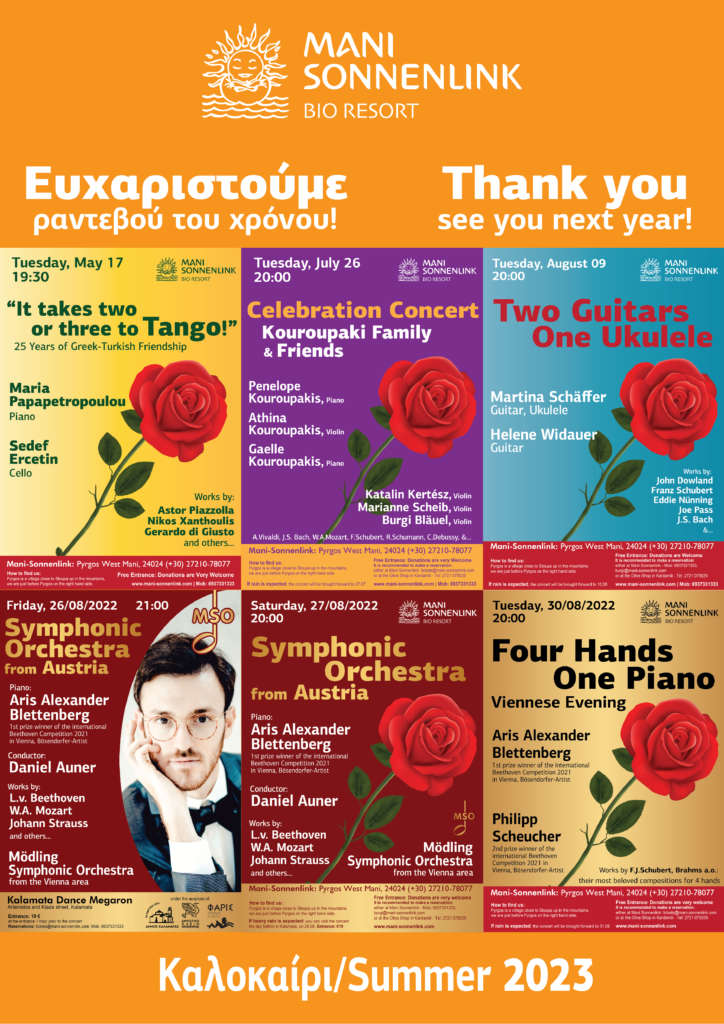 Dear friends of music in and around the Mani!
………..and I am already announcing the final concert for 2022!
On 30.8.22, Philipp Scheucher and Aris Alexander Blettenberg, the two wonderful Bösendorfer artists,
will dedicate themselves to Franz Schubert's four-hand piano works, composed in 1828, the year of his death.
In addition to the Rondo in A major D951 and the Fugue in E minor D952, the two artists
will also perform two key works from this, despite progressive suffering, highly creative last year of the composer's life:
The all-familiar, yet deeply harrowing Fantasy in F minor D940, and the Allegro in A minor D947 "Storms of Life".
I have already heard this programme – one cannot believe what this young man, Franz Schubert,
produced in the year of his death. It is very touching and very impressive!
But above all, it is infinitely beautiful.
At the end of the programme, you will hear a few popular compositions by Johannes Brahms for 4 hands.
Let us celebrate this last evening of the Music Summer 2022 together!
With warmest regards,
Burgi