ORGANIC CUISINE
Ingredients of the highest quality, mainly regional and seasonal, holistically
combined and gently prepared, guarantee taste and are well tolerated.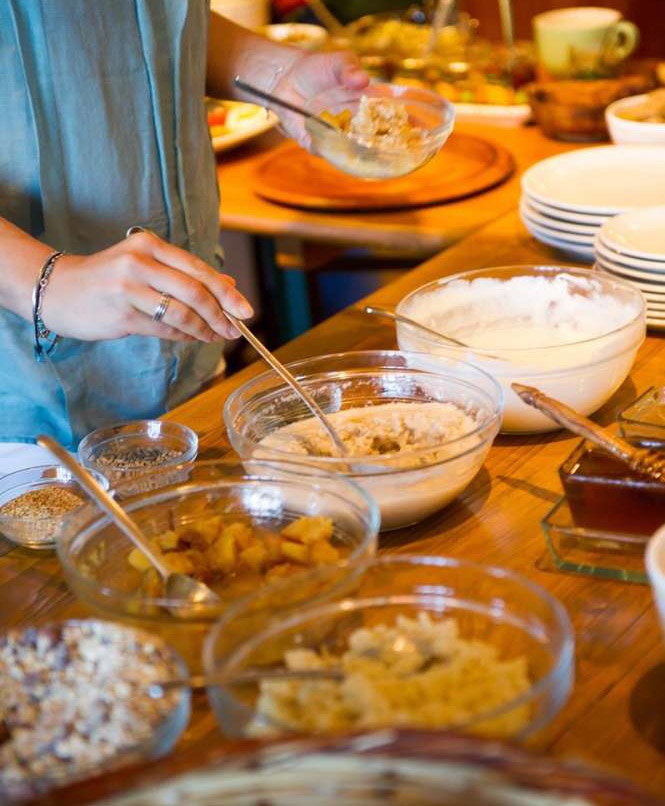 A good morning starts with a good breakfast.
Imagine sitting at a blue Greek table for breakfast. Delicious bread, fresh salad leaves in juicy green and lush shapes, olives, sheep's cheese, maybe some olive oil and fresh herbs. Your favorite drink is steaming in the morning freshness and you are surrounded by the most wonderful colors, sounds, noises and smells in the morning, in the constantly renewing light...
The rich, nutritious, organic veggie breakfast buffet is served from 8.30-11.00 am ( July and August 9.00-11.30 am). Vegan and gluten-free options are available. The certified organic ingredients come from our trusted suppliers, and some also come directly from our garden or hotel kitchen, such as fresh herbs and salads, homemade bread or jams and more. And of course we serve the olive specialties from our family business Mani Bläuel.
Breakfast included from late March to early November.
All accommodations are equipped with cooking facilities and are well suited for self-catering during winter season